Home Cleaning is the most important thing to keep your house healthy and attractive. You can implement some home cleaning techniques to clean your house, but there is the big difference between simple home cleaning and commercial cleaning. Commercial cleaning services are mainly reserved for businesses and offices because the use of advanced cleaning equipment is necessary to clean the entire office. However, they can also help homeowners to clean their house thoroughly.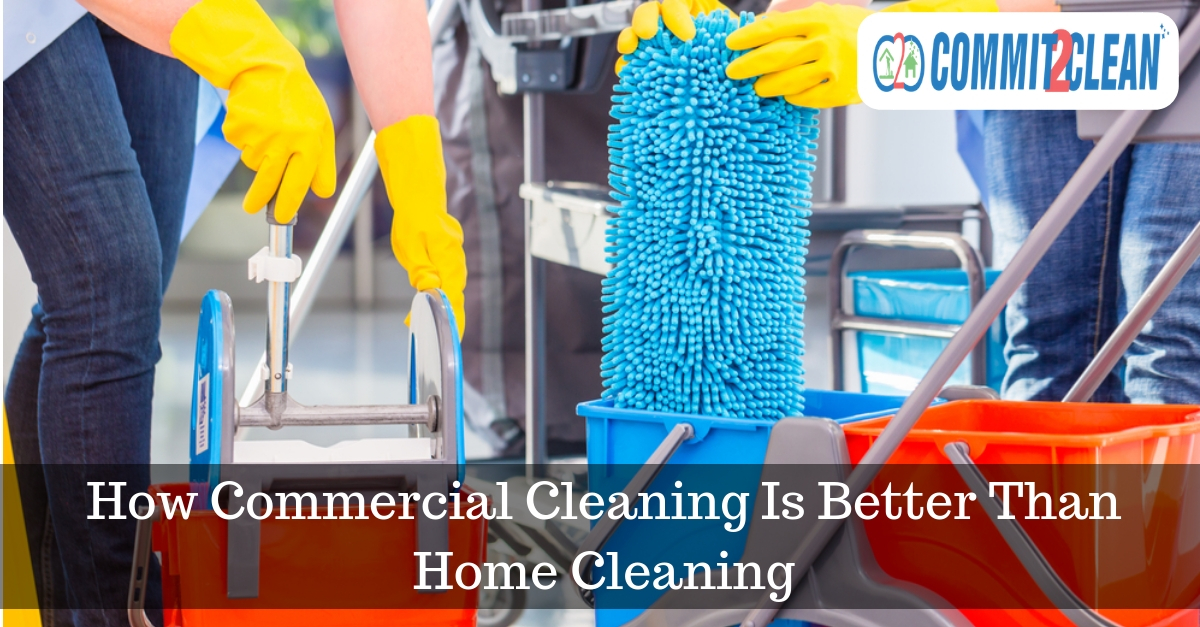 There are some of the significant differences between commercial and simple home cleaning are below.
Effective Cleaning
One of the most significant differences between commercial cleaning and home cleaning services is the effectiveness of the cleanup. Commercial cleaning service provider can provide you better and more efficient cleaning when it comes to removing dirt and grime than home cleaning service provider. Commercial cleaners are very thorough in their cleaning services and would ensure you that your home is clean well.
Advanced Cleaning Equipment
The commercial cleaning service provider uses the most advanced cleaning equipment for completing the cleaning tasks. They use high-powered machines & equipment that can easily remove dirt, grime, and mold from your home and office more efficiently than domestic equipment which is used in home cleaning services.
Advanced Cleaning Material
The commercial cleaning service provider is used advanced industry level chemicals and detergents to clean the entire office which can remove even the most difficult of stains with natural efforts so it will be great for you to hire the commercial cleaners to clean your house with effective cleaning materials.
---
Also visit now to get best following Cleaning Services:
100% Bond Back Cleaning Melbourne
End of Lease Cleaning Melbourne
For the list of suburbs we serve, please click here: service area
---
Quick & Easy Services
Commercial cleaners have high-powered equipment & materials to clean the entire offices, and they are also trained to clean entire office in given time so they can easily effectively clean your house in short period with their experience and equipment. They usually clean the offices, so they have enough speed in their work so you can get quick & easy services from them.
Cost
There is only one significant difference between commercial and home cleaning which is cost. Commercial cleaning is quite expensive in comparison to home cleaning services. Home cleaning doesn't cost you much and can be accomplished by making use of household items, but it can't provide you with the high-level cleaning which the commercial cleaners can. The commercial cleaning service provider may cost you the right amount of money, but they can surely provide you the best cleaning services for your home and offices. It's highly recommended to choose commercial cleaners over the home cleaners to ensure the proper cleaning of your home and office.
Clearing the mess and maintaining a dazzling atmosphere is possible through the specialist who has the right equipment and skills to remove the smallest dust particle and faintest stay so that the place brightens up with life. Commit2clean is the leading name in the arena of high-quality cleaning services in Australia. They provide fantastic services to their client to maintain flawless and incredible premise.
Visit now to get the best commercial cleaning services in Australia at Best Office Cleaning Services Carlton Australia